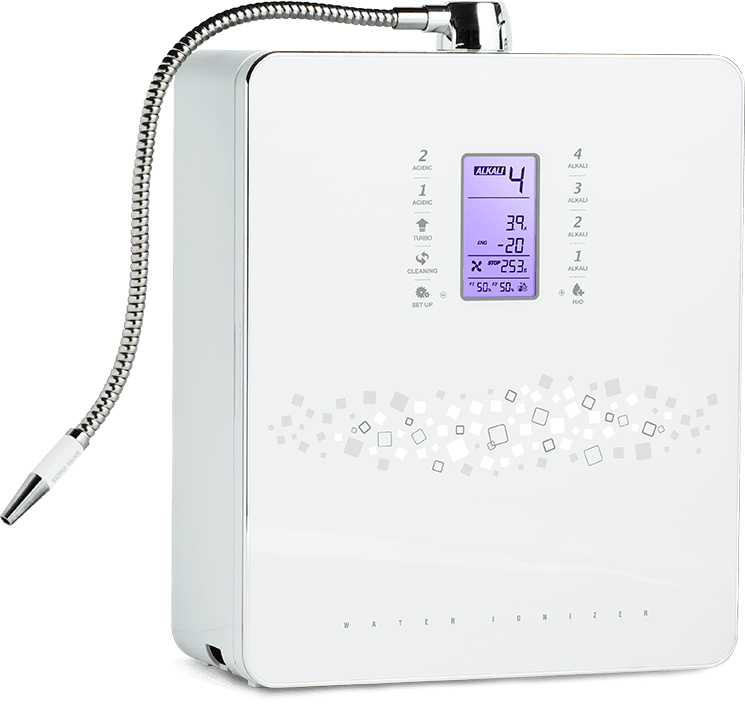 Water ionizer
YT20-CL
Dimension
(mm)

Weight
(kg)
Features
Specification & Gallery
Uses

Convenient use

Convenient ONE-TOUCH electronic-type
water discharging structure.

Color back-light

Backlight color of LCD display changed
according to water outflow levels.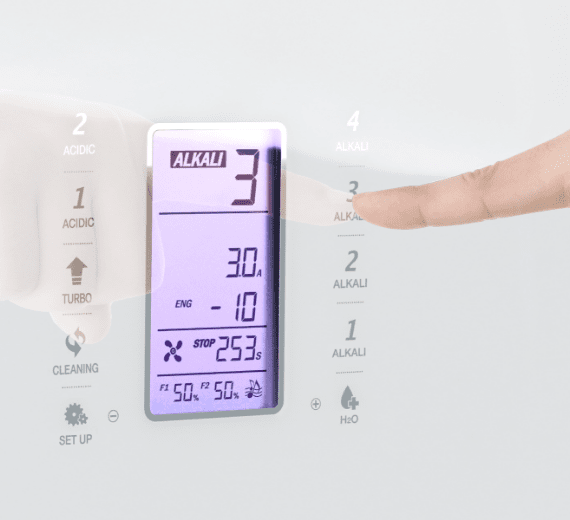 Alkaline
level 4
Alkaline
level 3
Alkaline
level 2
Alkaline
level 1

Purify water

Acidic
level 1
Acidic
level 2

Turbo water
Convenient Function
Real time Filter Usage Indication

Earth-Friendly Technology When in
ECO Mode

Automatic Electrolysis Tank
Cleaning Function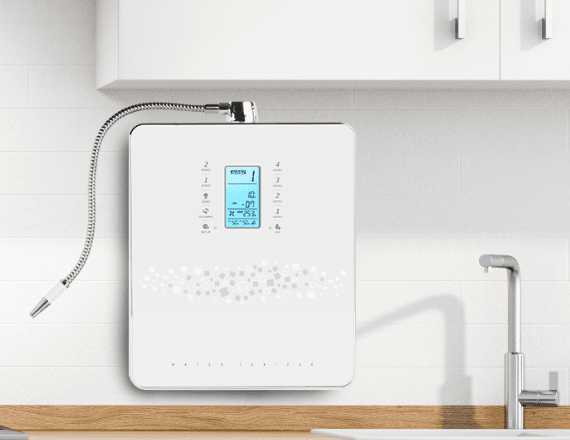 Various installation
method
You can install it any way and
any where you want.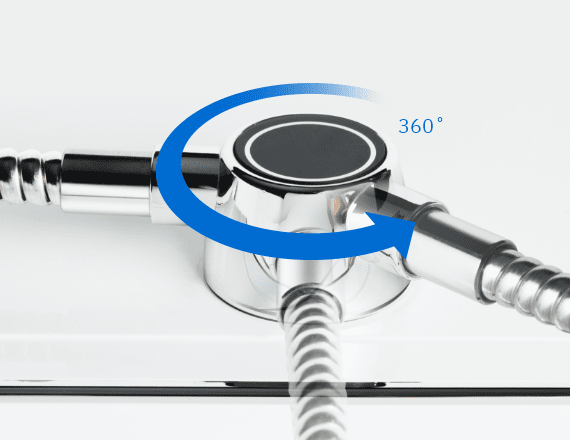 Ultimate convenience
Rotates 360°
Designed for multi-directional
polygonal rotation operation.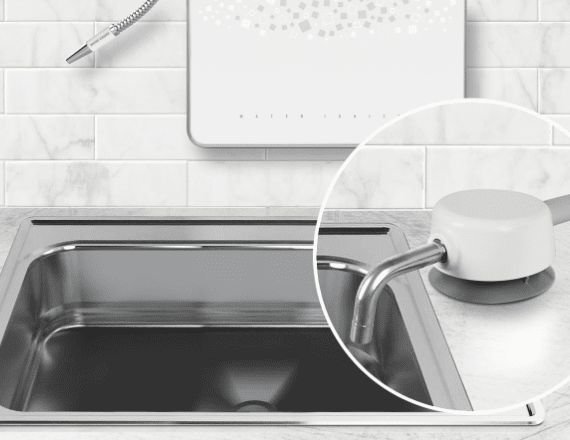 Drain Faucet
It comes with a Drain faucet that can be
easily installed to anywhere on the sink.
TURBO MODE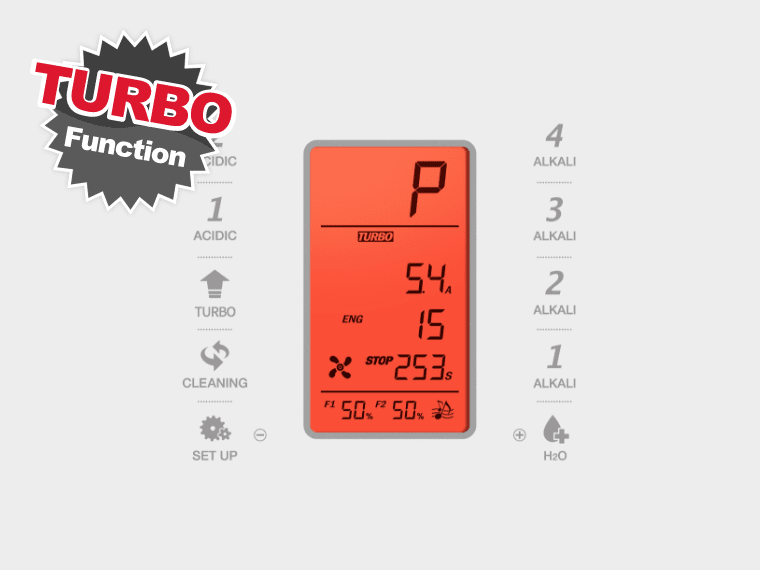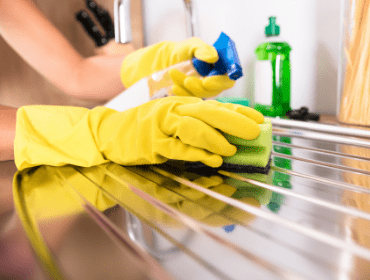 Supports Natural Cleaning for Your Home and Food Safety The electrolytic technology of pure water without additive produces natural cleaning water, disinfection water.

Antibacterial and Disinfection power 99.9% (KTL Exam completed)
| | pH | Usage |
| --- | --- | --- |
| Alkaline Turbo | pH 10 ~ 12 | Cleaning, disinfection |
| Acidic Turbo | pH 3.5 ~ 2.5 | disinfection |
※ CAUTION : Turbo is not for drinking.
SMART safety Diagnosis function
Automatic Stop Function
Water outflow will stop to prevent overflow or flooding. there is no need to wait if the unit automatically shuts off. You can resume its use immediately.

Temperature sensor
This unit is equipped with a temperature sensor which prevents the accidental inflow of hot water.

Sensing function of supplied raw water
The outflow of functional water stops automatically when raw water is not supplied, preventing the electrolytic cell and power supply unit from being damaged due to current overflow, water from being wasted and accidental water leaks.

Detects if filter door is open
When door is open, the water supply will be suspended for your safety.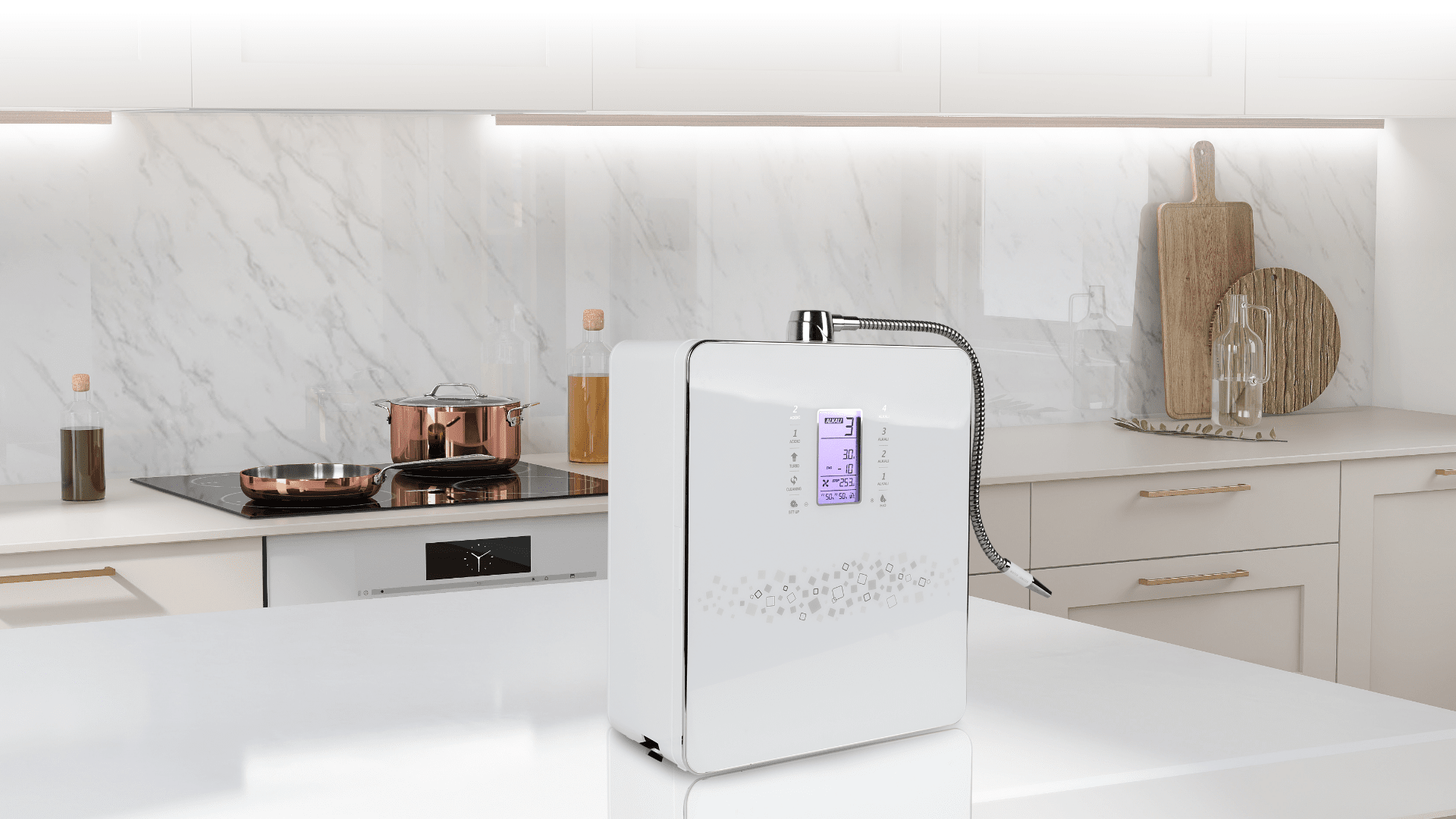 Composition of Product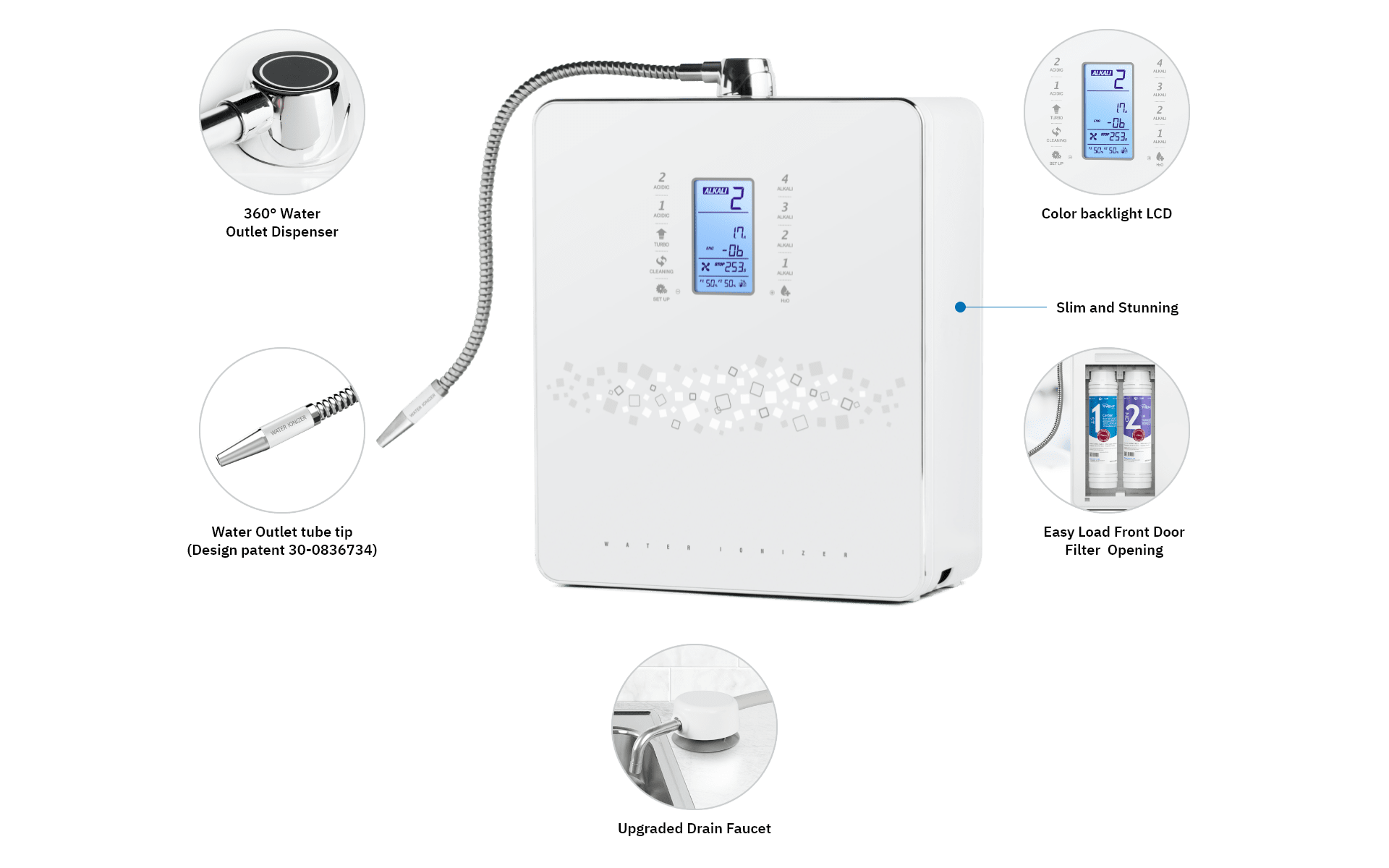 LCD Display and Touch Pad Overview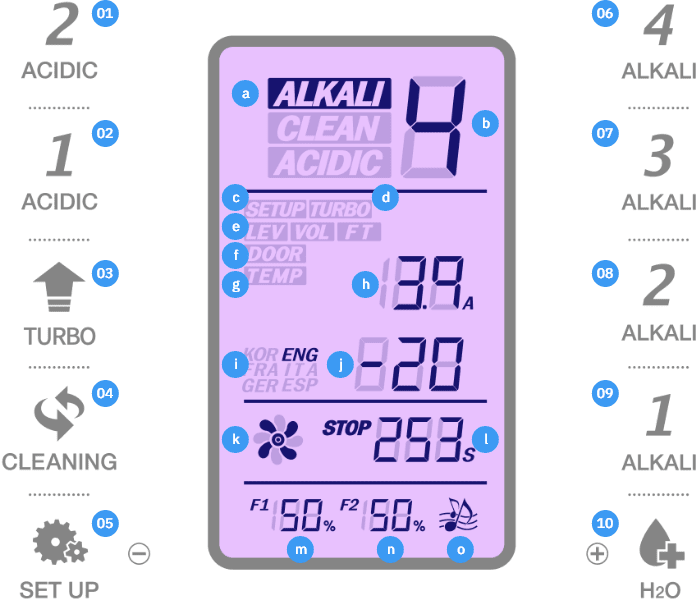 TOUCH PAD
LCD DISPLAY
01
Acidic Level 2
a
Selected mode
i
Selected Language
02
Acidic Level 1
b
Selected level
j
Voltage level
03
Turbo Water
c
System set up
k
Working indicator
04
Manual Cleaning
d
Turbo mode
l
Time indicator
05
System set up
e
Power Adjust
m
1st Filter use
06
Alkaline Level 4
f
Door open
n
2nd Filter use
07
Alkaline Level 3
g
Temperature error
o
Voice ON/OFF
08
Alkaline Level 2
h
Current level
09
Alkaline Level 1
10
Purified Water
2 FILTERS PURIFIER SYSTEM
Rich in healthy minerals, which provide excellent heat conductivity, and facilitates dissolution of nutrients thereby speeding up metabolism.

Removes various smells from water and makes water tasty. Fine artificial film filters out contaminated materials including ordinary bacteria while maintaining essential minerals in the water.

Removes harmful chemicals like chlorine and compounds like agrichemicals, detergents, large suspended matter like rust, sediments, and other volatile organic compounds efficiently via activated absorption method.
Easy to manage Front-load filters
Open and close type door & simple filter replacement system (Patent 10-0831027)
Model
YT20-CL11 / YT20-CL9
Exterior of Product
Dimension
300(W) x 135(D) x 355(H) mm
Weight
5.0kg
Use Environment
Water temperature
4~35℃
Water pressure
1~5kgf/㎠
Water outflow
Outflow method
Electronic outflow structure
Water outflow
Below 2L/min
pH levels
4 Alkaline, 1 Neutral, 2 Acidic, Turbo
| | | | | |
| --- | --- | --- | --- | --- |
| Controls and display | Controls | Touch Pad | Display | Color LCD |
| Electrolysis section | Water Cell Plate Materials | Platinum and Titanium | Electrolytic Cell Quantity of Electrodes | 11/9 |
| Power | Power supply | SMPS | | |
| Filters configuration | Filter Structure | 2-Filter system | | |
Convenient
function
Automatic Cleaning
○
Manual Cleaning
○
Voice announcement
○
Filter usage indication
○
Automatic Stop Function
○
Voice setting
○
Supplying water sensor
○
Water temperature
○
SMART self Diagnosis
○
Error indication
○
Setting
function
Adjustable Alkaline pH
○
Adjustable Acidic pH
○
Language setting
○
Time setting
○
Filter reset
○
Volume control
○

Uses of Alkaline water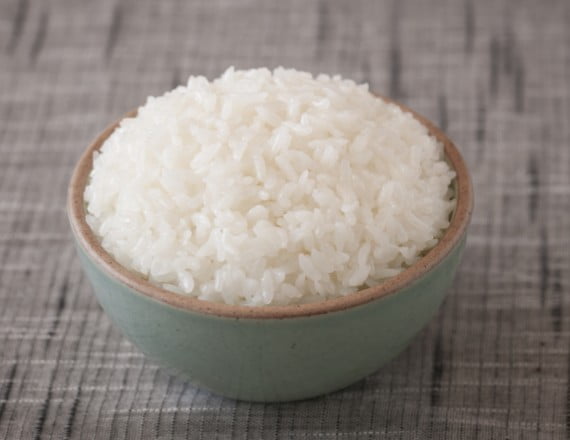 To cook lusciously glazed,
delicious rice
Wash the rice with acidic water 1~2 times and then rinse with purified water. Use level-2 or level-3 alkaline water to soak the rice for about 30 minutes and then cook the create glutinous, glazed rice with exceptional savory taste that doesn't spoil easily. (Use a smaller quantity of water than when cooking with ordinary water.
To parboil vegetables to
bring out their vivid colors
Boiling colored vegetables with alkaline ionized wear brings out the natural vividness of the bright green and yellow hues of the vegetables.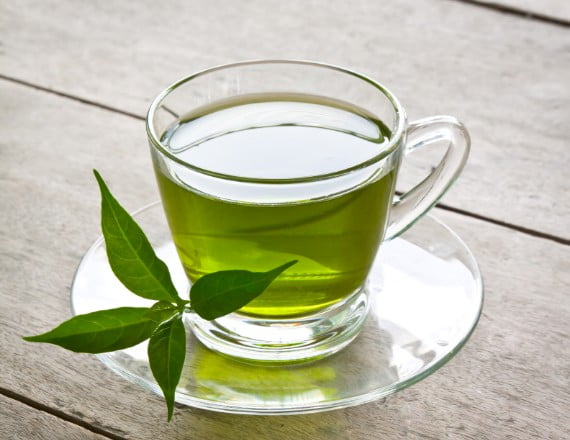 To enjoy tea
Just place the barley tea bag in the alkaline ionized water. Even without boiling, the water's strong absorbing, dissolving effects elicits 10 times more of the tea, creating a rich brew. This save the time and energy usually consumed by boiling and cooling before storing the tea in the refrigerator.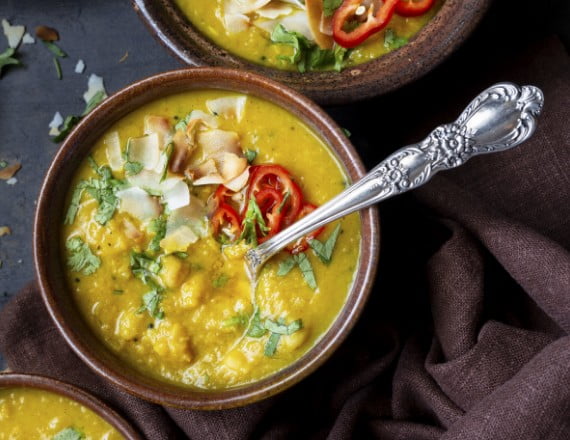 To brew thick soups from
Meat or bone
When simmering thick soups from beef or bone, using alkaline ionized water brings out all the savory nutrients at once, creating a deep and rich taste.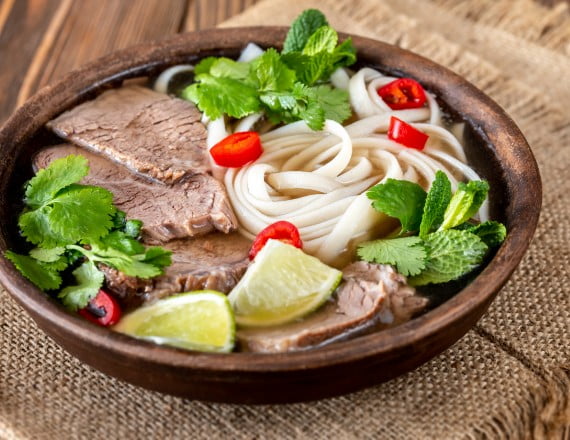 To tenderize meat dishes
Marinating the meat in alkaline ionized water for 20~30 minutes enables you to enjoy a more tender dish.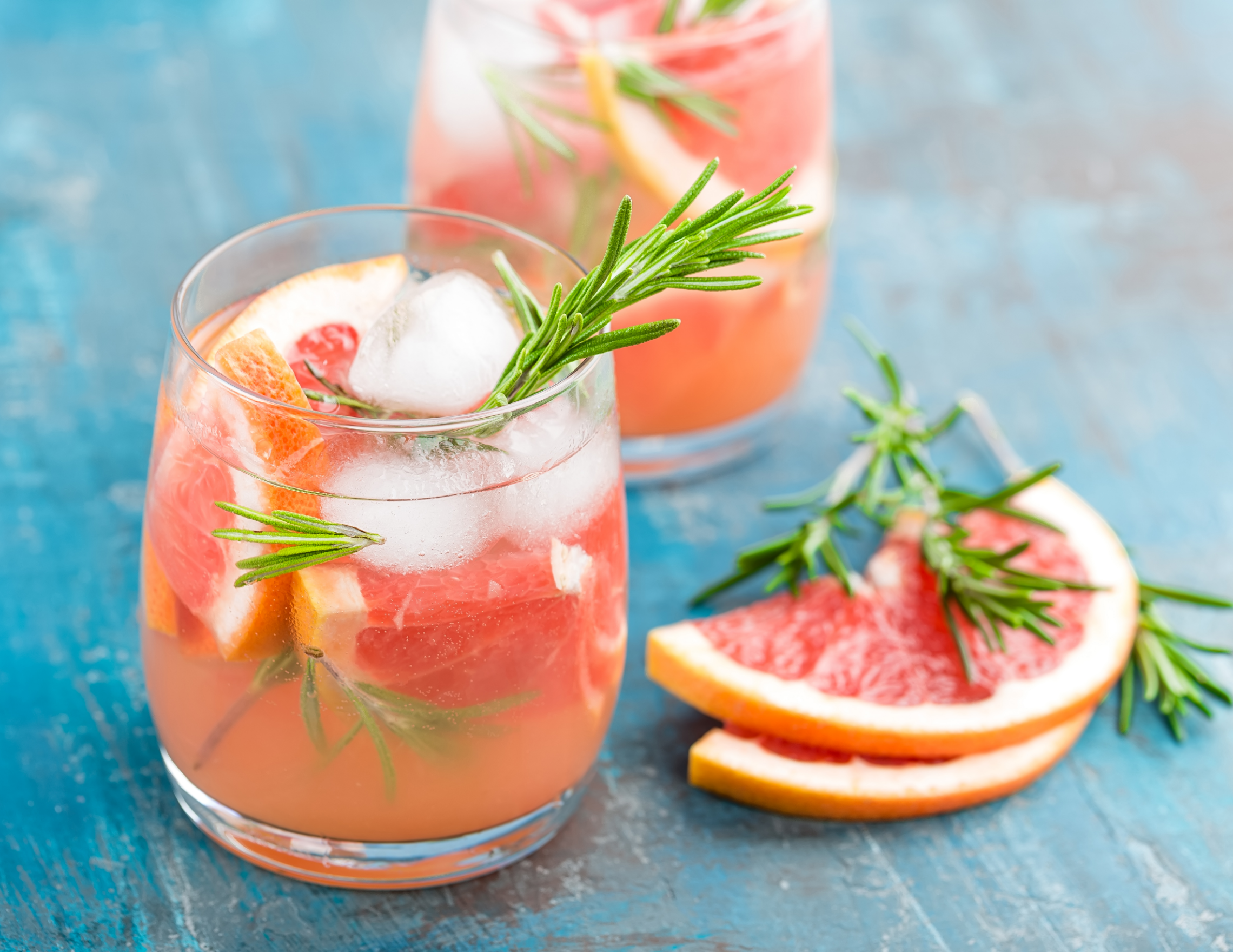 To create a smooth alcoholic
drink or cocktail
Our water adds a mildness and smoothness to the special drink or cocktail that you create, and ice made from our alkaline ionized water will add even greater flavor. Cocktails made with alkaline ionized water are relatively neutralized, and thus prevents hangovers.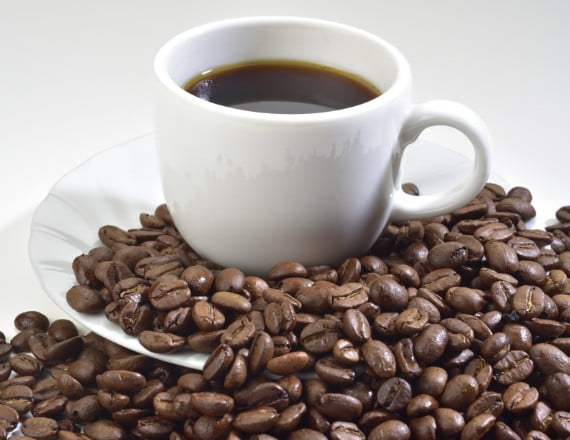 To add a deeper aroma
and color to your tea
Our water removes the bitterness of coffee and the unappealing astringent taste of green tea while bringing out the tea's natural taste and aroma.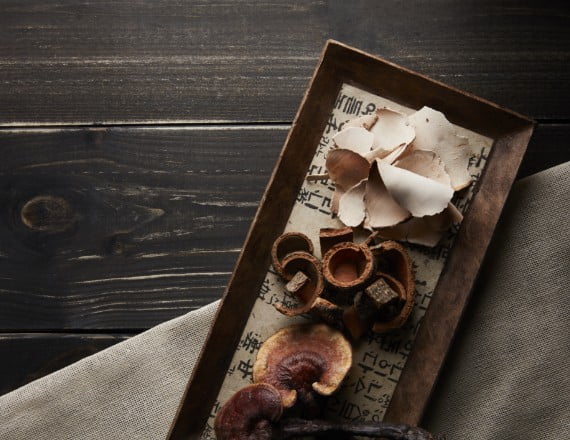 To prepare brewed
oriental medicine
When preparing brewed oriental medicine, try using our alkaline ionized water. It deeply penetrates the medicinal ingredients to bring out their beneficial effects, giving you a result superior to re-brewing and mixing.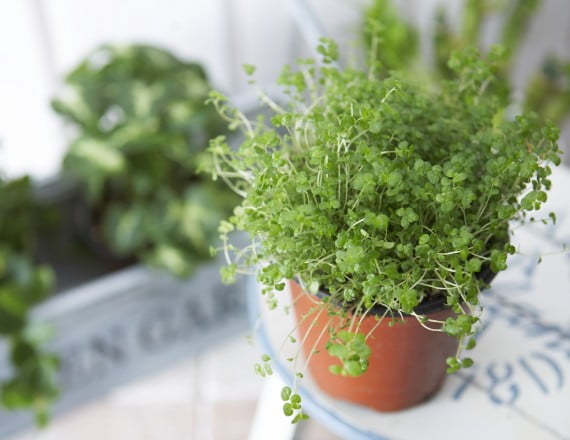 To cook lusciously glazed,
delicious rice
Wash the rice with acidic water 1~2 times and then rinse with purified water. Use level-2 or level-3 alkaline water to soak the rice for about 30 minutes and then cook the create glutinous, glazed rice with exceptional savory taste that doesn't spoil easily. (Use a smaller quantity of water than when cooking with ordinary water.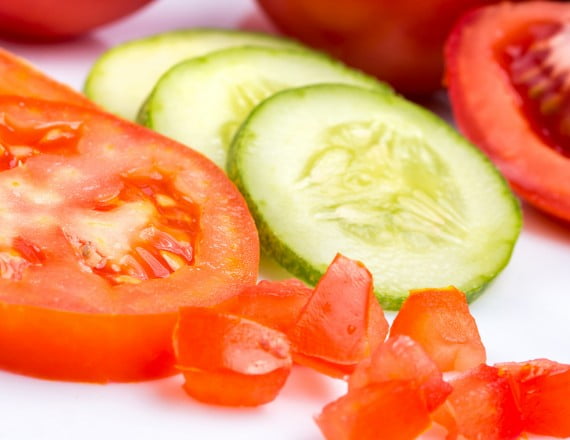 If you're concerned about
agri-chemicals and fertilizers
If you wish to directly consume various vegetables and fruits, wash them with acidic water and finally rinse with alkaline water. The acidic water has strong oxidation power that can remove even bacteria, viruses, and agri-chemicals, and maintains the freshness and natural hues of the vegetables and fruits during washing.
Uses of Acidic water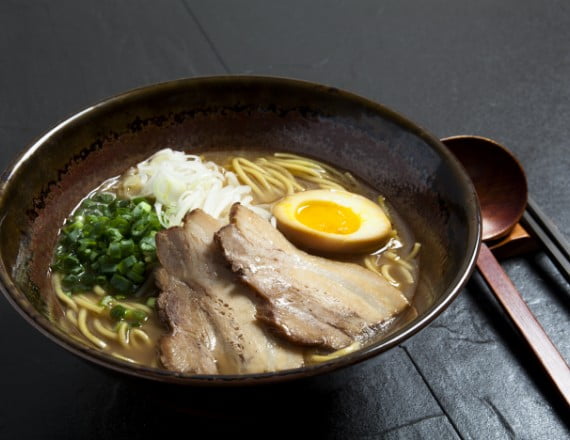 When cooking noodles
When boiling noodles, use acidic water make them glutinous and chewy. However, thicker noodles or pasta (such as ramen noodles or spaghetti) may not be cooked easily with acidic water, so use alkaline water instead.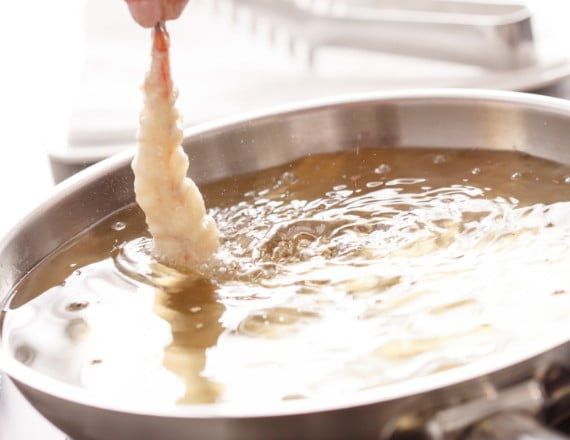 For fried foods
When frying, using acidic water gives you a crispier and more savory result.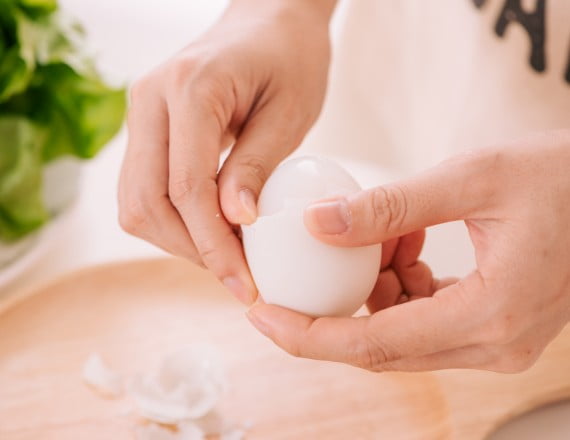 For boiled eggs
If you boil eggs with acidic water, boiled eggs have a chewy texture and peels shell easily.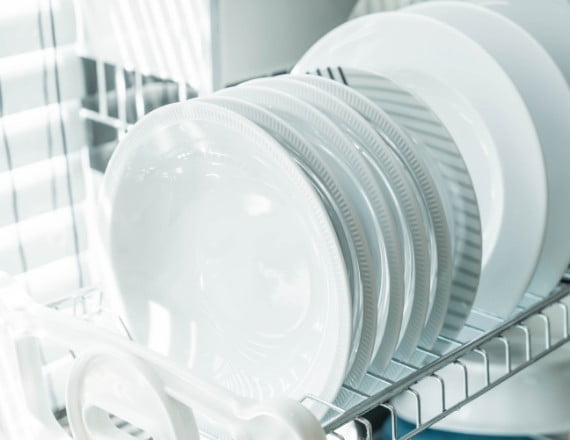 When washing kitchenware
Acidic ionized water has excellent cleaning and disinfecting power and is thus optimal for use in washing dishes and kitchenware to maintain their gloss and cleanliness for a longer period.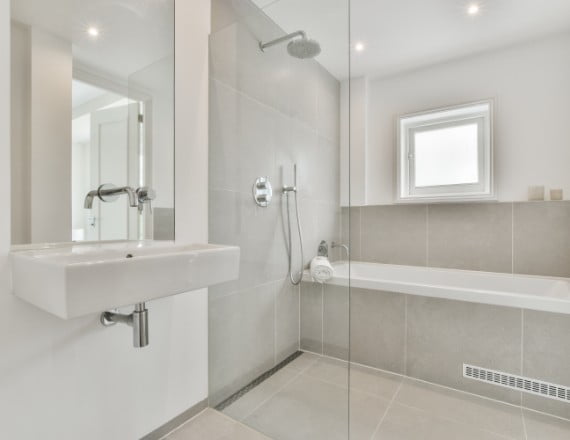 When cleaning
the bathroom or kitchen
Using strong acidic ionized water when cleaning the tiled floors of hallways, etc. greatly facilitates the removal of dust from every nook and cranny, and because the acidic ionized water dries quickly, it prevents stickiness.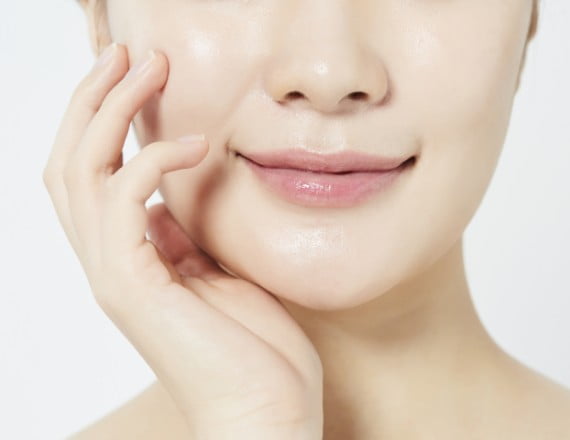 Acne and Skin Problems
Acid water from your water ionizer has an astringent effect and can be used with helping to treat or prevent acne, skin spots and other minor skin problems.
Washing the face with acidic water helps to make the skin smooth, and helps to improve the overall health and sheen of your skin.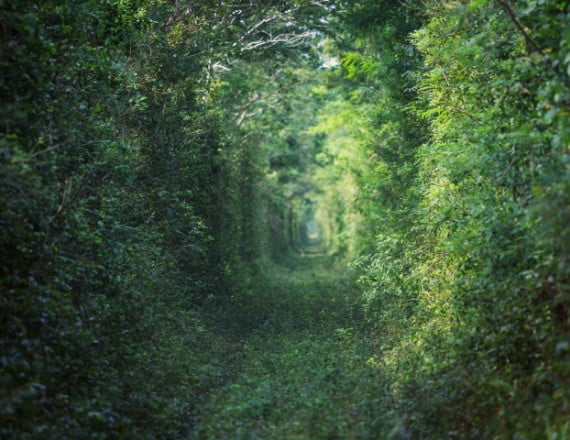 Watering Plants
Use it to water house plants or outside plants to promote growth. Plants respond well to acidic water - rain water is acidic.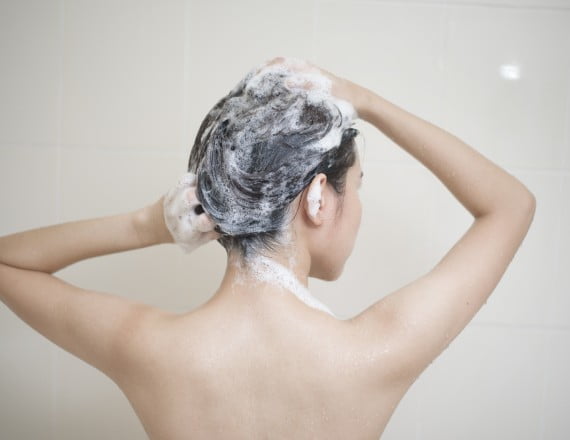 Cosmetics
and Hair and Bath
Rinse your hair with acidic water before and after shampooing to help prevent hair loss, dandruff, itchy scalp.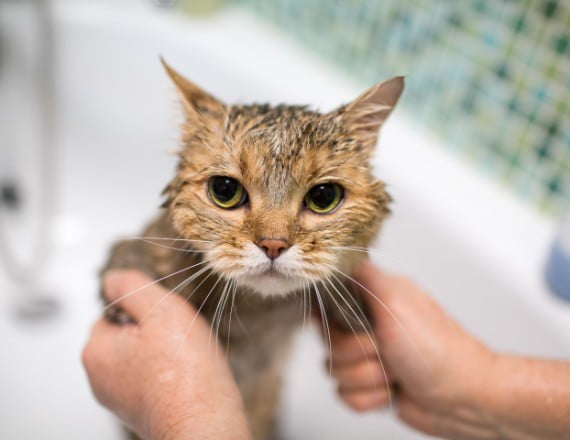 Pet Friendly
Bathe your pets with it for an overall healthier coat.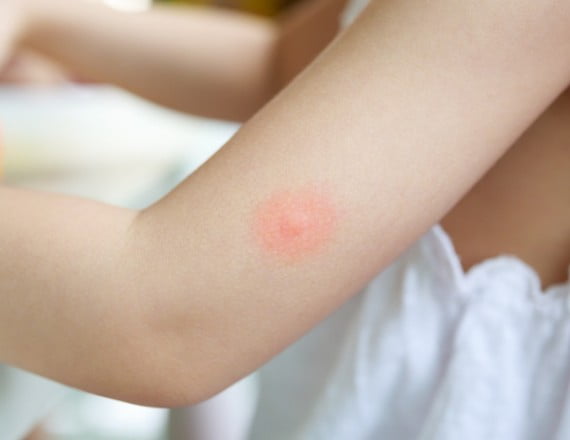 Insect Bites
provides relief from the itch or sting of mosquito and bug bites.
Uses of Turbo water
The TURBO function allows you to create strong Alkaline water and strong acidic water.
These types of waters are ONLY to be used for cleaning, sanitizing, and disinfecting purposes.