Electrolyzed Sterilizing Water Generator > YT25-S5H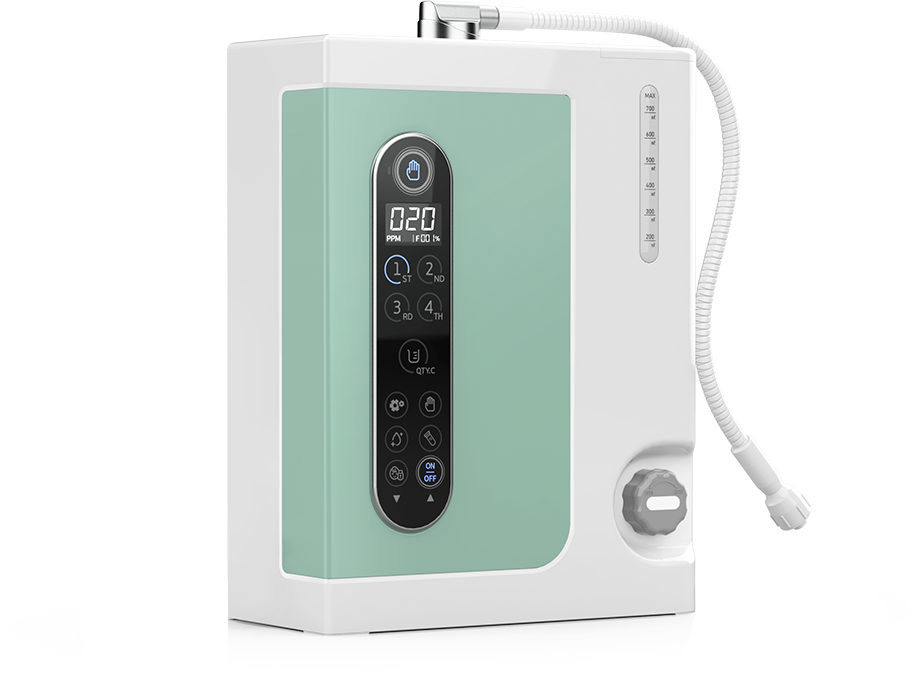 Electrolyzed Sterilizing water generator
YT25-S5H
Electrolyzed Sterilizing water generator

Sterilization · Disinfection and Sanitation management

Restaurants, Hospitals, Accommodations, Multi-Purpose Facilities, etc.
Features
Specification & Gallery
Field of use

Do not buy sterilizer
Disinfectant anymore!
COVID-19
Sterilization!
Electrolyzed Water Generator produces concentration you desired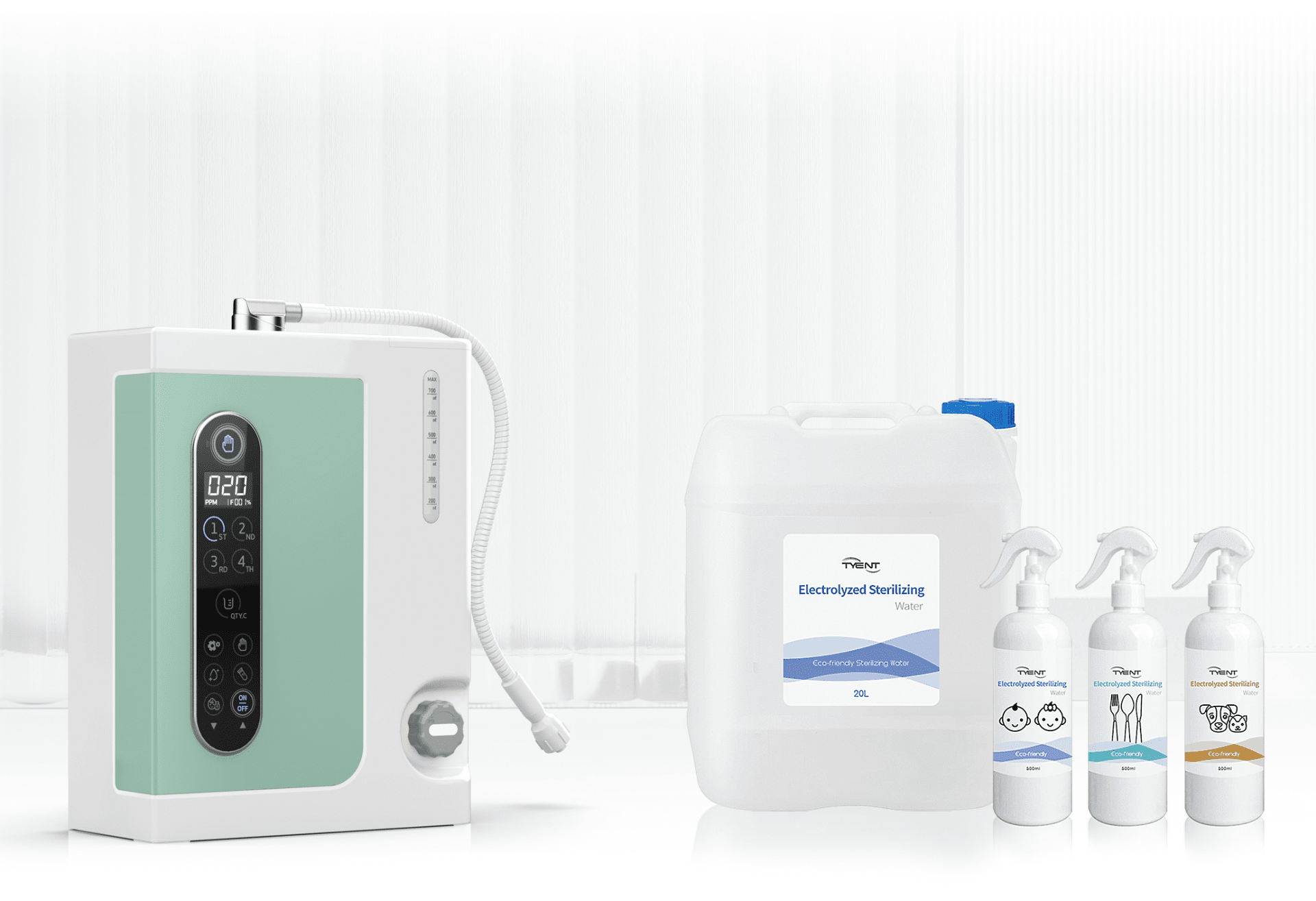 Sterilization • Disinfection • Deodorization
Used anywhere sanitary management is required
Cafeteria, Restaurants, Public facilities, Public transportation, Sanitariums, Public Health centers, Pet hospitals, etc.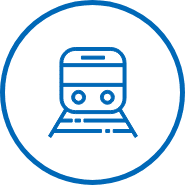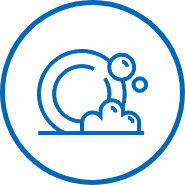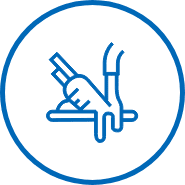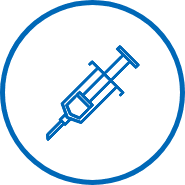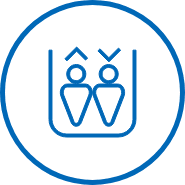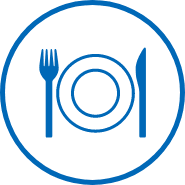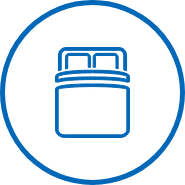 Features of TYENT HOCl

EFFECTIVE


99.9% Strong effect of sterilization

With Quick and powerful sterilization, kill 99.9% of bacteria, fungi, viruses regardless of the type within 30 seconds

SAFETY


Low concentration · Low irritating

Specified as a disinfectant for food additives and apparatus by the KFDS, US FDA, and the MHLW.

ECO-FRIENDLY


Be returned to water

Unlike existing disinfectants, no residue is left behind and solution is returned to water.

NONTOXIC


Harmful substances free

There are no toxic ingredients such as chloroform, benzene, formylaldehyde, acetaldehyde, colorants, surfactants, CMIT, and MIT
Broad sterilizing power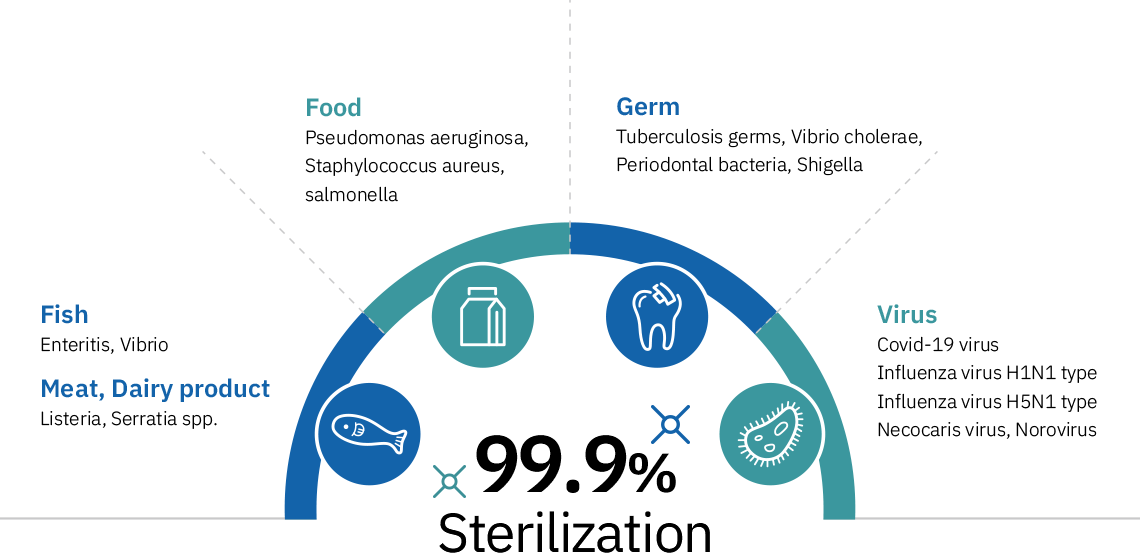 HOCl is the main ingredient for sterilization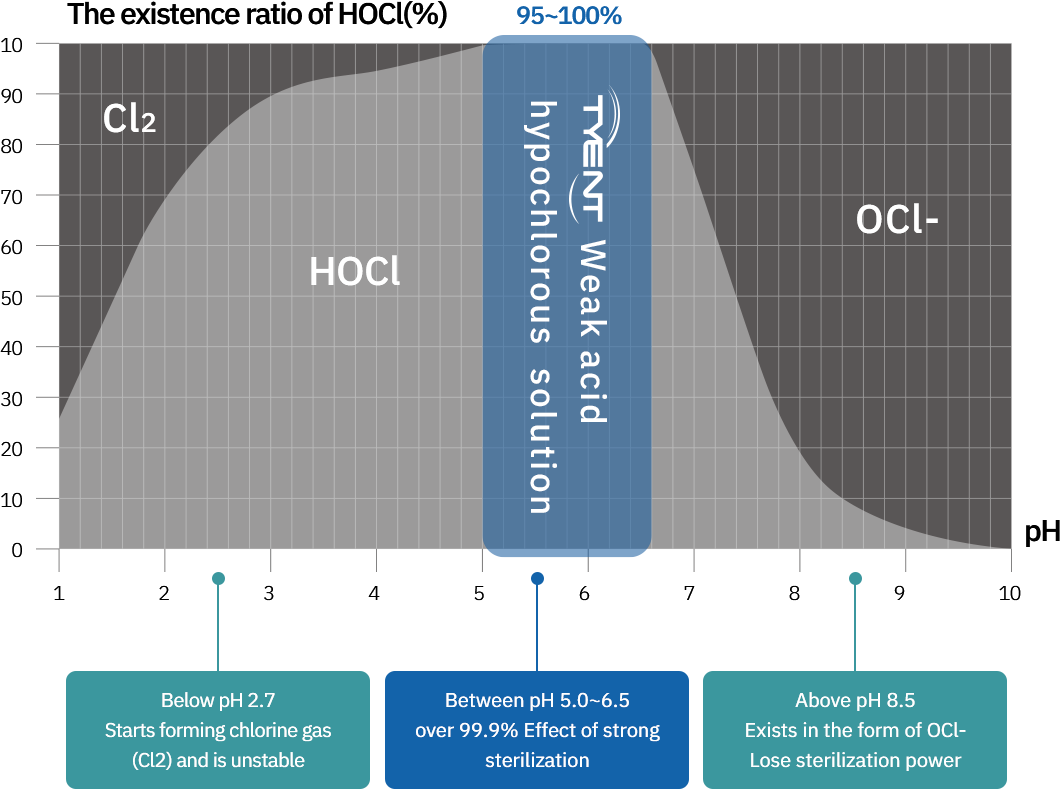 HOCL be maintained mostly between pH 5.0 and 6.5
TYENT HOCl generator produces sterilizing water solution of HOCl ingredients over 99%

Specimen
Subject
Chlorine concentration
Sterilization time
E-Coli
HOCL
0.1ppm
1.5 mins
OCL-
0.1ppm
120 mins
NH2Cl
0.1ppm
520 mins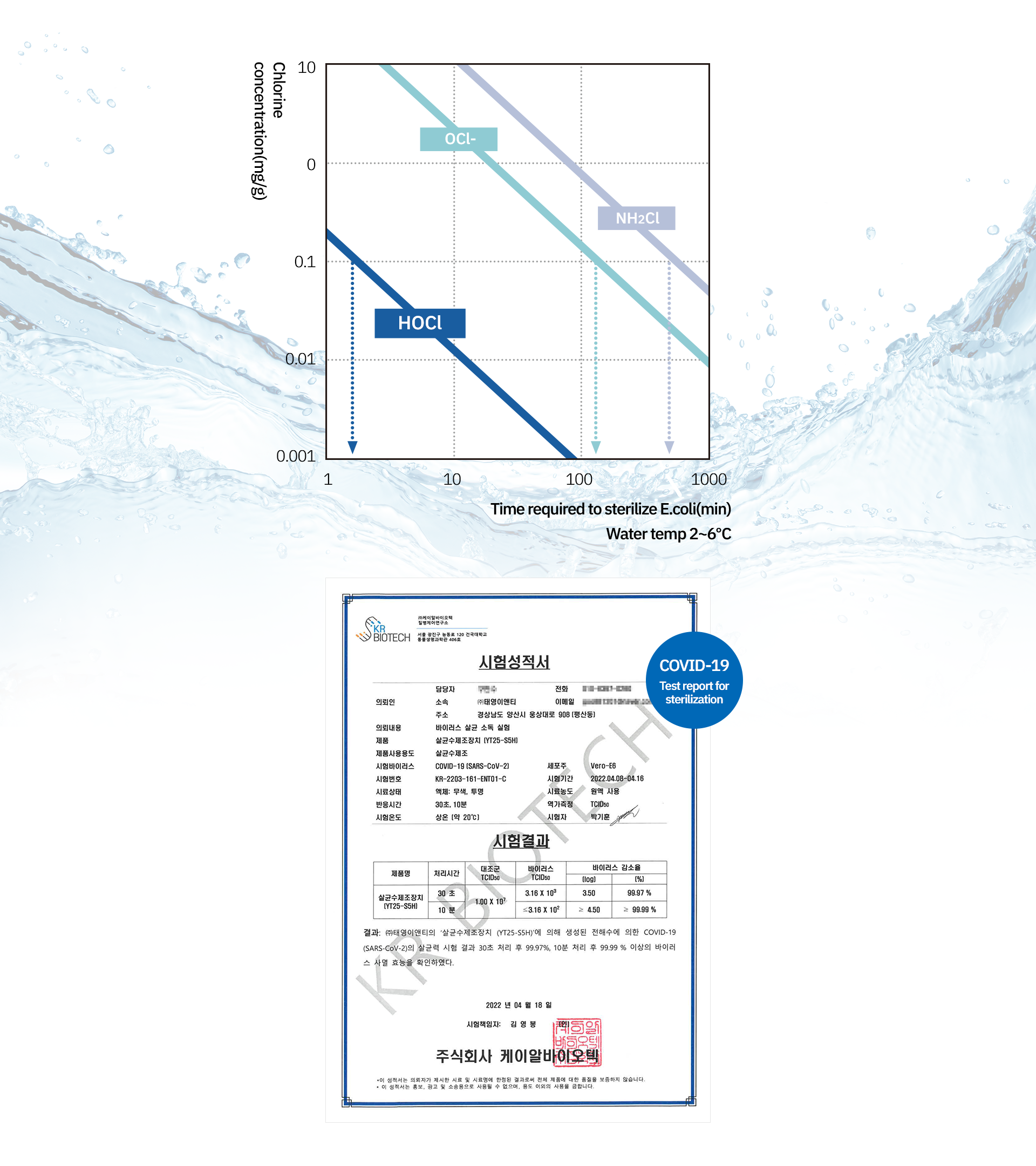 Hypochlorous acid (HOCl)

is a proven sterilization · disinfectant globally.
KFDA approved food additives and Disinfectants for apparatus

EU market approved disinfectant / EC No.1048

KFDA approved chemical suitable ingredients

Guideline for disinfection & Sterilization of the CDC

Ingredients allowed for disinfectants by the Ministry of Environment

Food, hand sanitizer and apparatus approved by AQSIQ

US FDA GRAS (Generally Non-Toxic Substances) Food Additives

Hospital infection prevention management guidelines by KCDC

Food Additives by Japan MHLW
Product information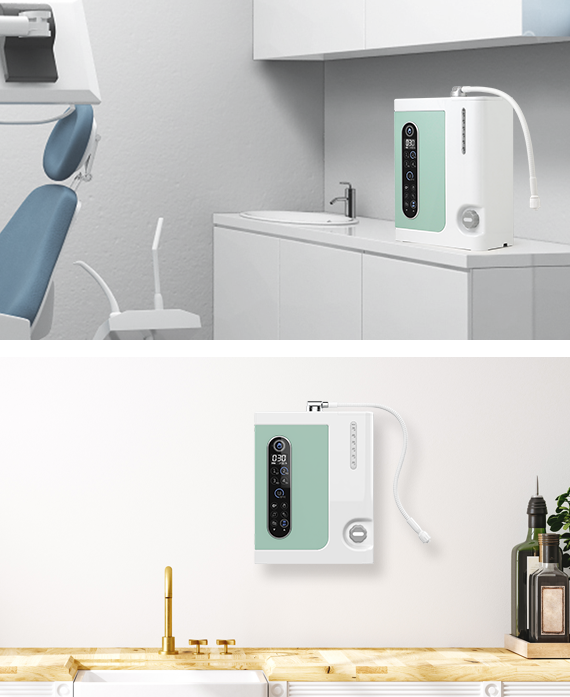 Compact size and easy to install
The integral Electrolyte tank and water outflow tube with compact size of the device can be easy to install among kitchenware

Countertop and wall-mounted, both are possible!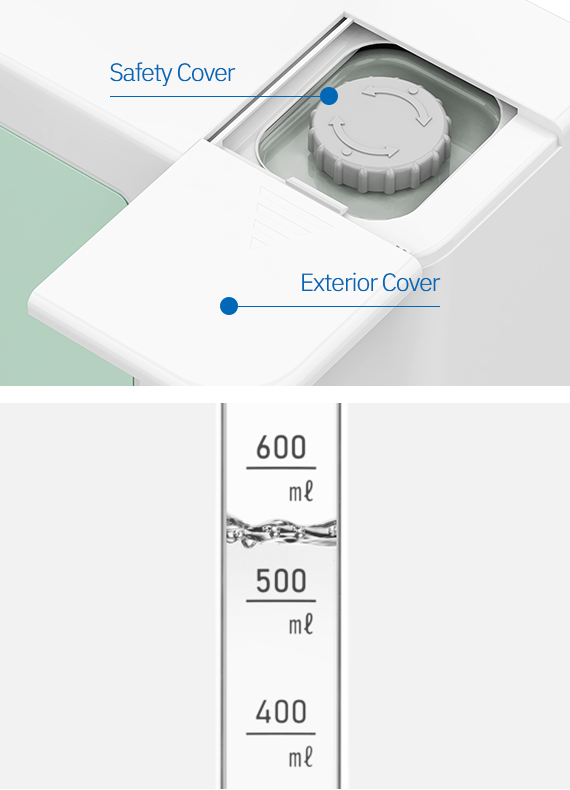 The integral structure of Electrolyte tank
The integral electrolyte tank as the double cover structure increases stability and prevents water leakage.

Both the cover and salt tank body are made of corrosion-resistant materials.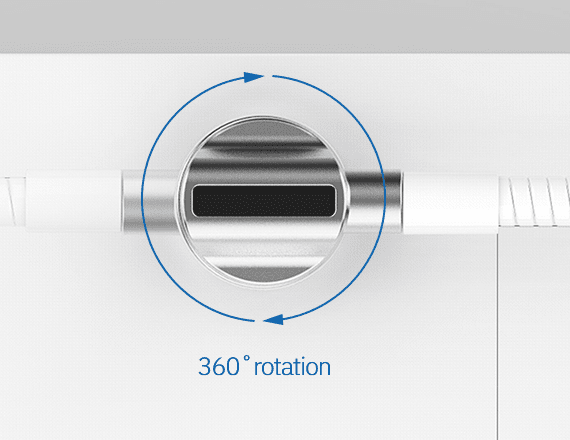 360˚ Spin spout
You can use comfortably in any direction with 360˚ spin spout.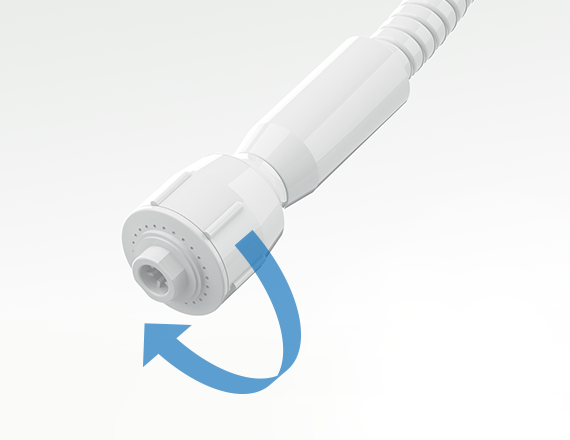 Outflow type
Possible to use straight spray and diffusion spray type.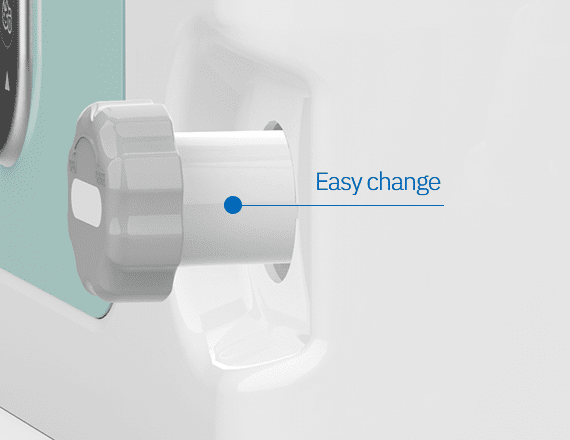 Pre-Filter
Pre-filter protects the product from foreign substances and inlet water and keeps stability of sterilizing water solution.

Easy to replace pre-filter located front side of the product.
Display board with easy identification
Each button is designed with numbers and icons, so you can easily identify the purpose and function.

You can see the live status with LED display when its use.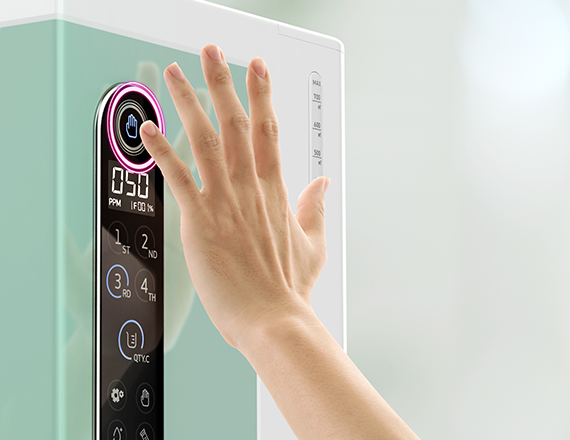 Proximity sensor function
The proximity sensor system allows you to easily get the water going or stop without touch.

Set the proximity sensor to your favorite and most commonly used water setting and also, you can stop the function with one touch when not in use.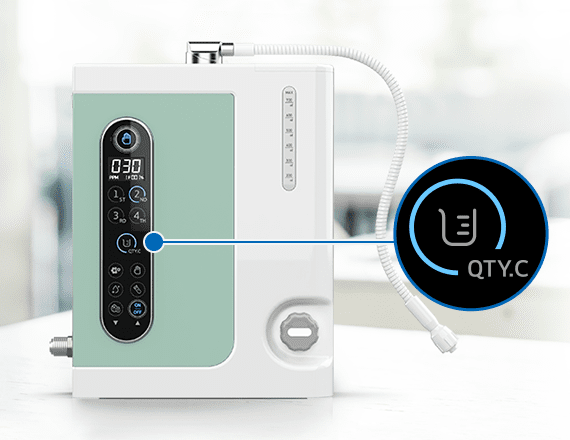 Quantity control function
Set quantity of water as needed.

For your convenience, basic 10 / 20 / 30 / 40 / 50L can be possible to use and also, customize to set 1L~60L as your favor.
Safety system
Child lock: This is a safety lock function to prohibit the use of products other than the user such as children and the elderly.

Safe Self check function: When diagnosing the unmet condition such as electrolytes(salt) and flow, safety system has been operate with display and buzzer sound and then automatically stop.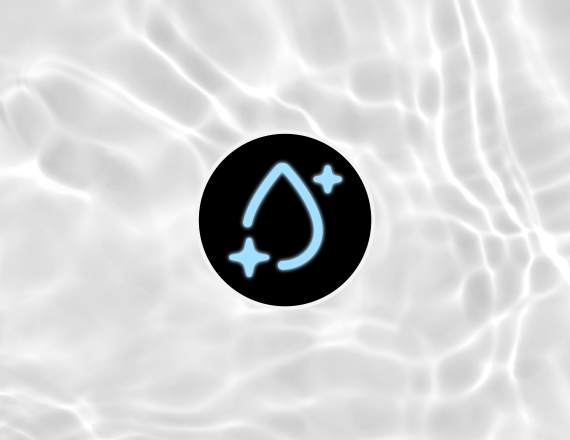 Automatic Cleaning function
Cleaning function is to clean residue from electrolyzer and pipe.

This system increases the durability of the product and keeps steady concentration of water.
Product composition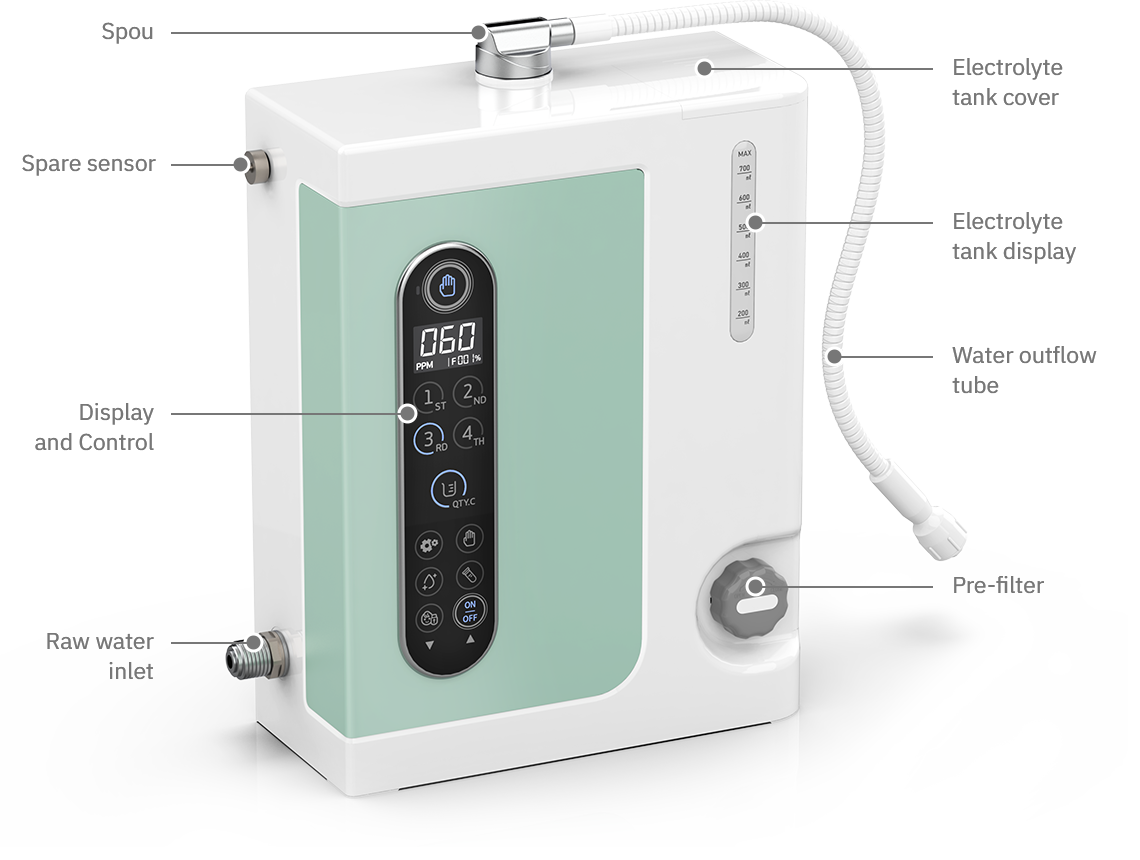 Control and Display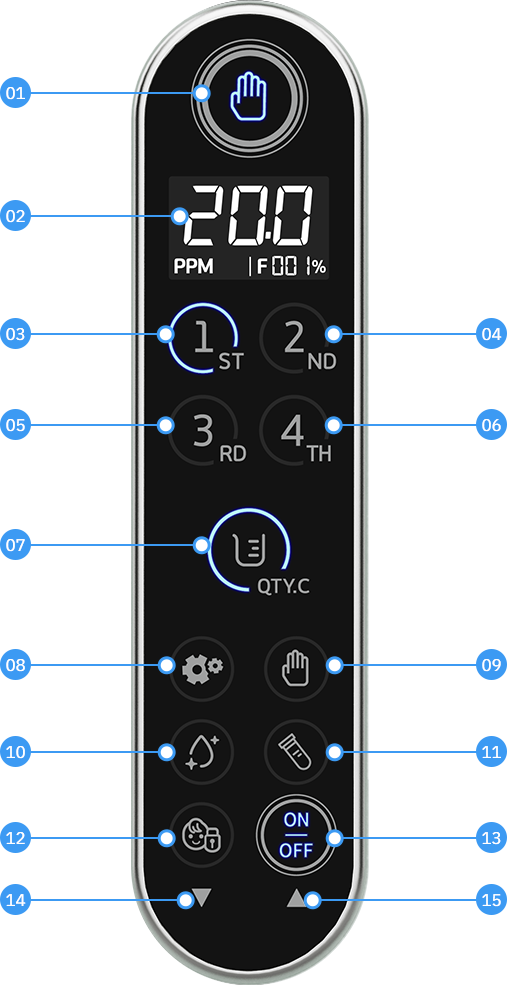 | No | Name |
| --- | --- |
| 01 | Proximity sensor |
| 02 | LCD display |
| 03 | 1st outflow (basic setting 20ppm) |
| 04 | 2nd outflow (basic setting 30ppm) |
| 05 | 3rd outflow (basic setting 50ppm) |
| 06 | 4rd outflow (basic setting 70ppm) |
| 07 | Fixed qty discharge |
| 08 | System setup |
| 09 | Proximity sensor setup |
| 10 | Cleaning button |
| 11 | Filter reset |
| 12 | Child lock On/Off |
| 13 | Power button |
| 14 | Down |
| 15 | Up |
Place to use
Public places and facilities such as Schools, daycare centers and play places

Multi use facilitie such as Hospitals, nursing hospitals and public transportation

Restaurant business such as cafeterias, cafes and restaurant franchise.
Model
YT25-S5H
Dimensions & weight
Size(mm)
300(W) x 135(D) x 350(H)
Weight
5kg
Display & control
Display
LCD
Control
Touch sensor
Power
Power supply method
SMPS
Rated voltage & Frequency
AC 100~240V 50/60Hz
Electrolysis division
Electrolyte
TYENT Electrolyte
Electrolyte tank capacity
Approximately 800ml
Produce division
Electrolysis method
Non-membrane Electrolysis
Filter
Sediment filter 1ea
Water outflow
Available Chlorine concentration
10~80ppm
Water outflow stage
3 stage
Water outflow rate
Below 5L /min
Sterilization main ingredient
HOCl(Hypochlorous Acid)
Convenience and
safety function
Fixed quantity function
○
Proximity sensor
○
Electrolyzer cleaning function
○
Child lock function
○
Display of filter usage
○
Filter replacement notification
○
Smart A.I self diagnostics
○
When the error occurs,
the device automatically stop
○
Available Chlorine concentration control
○
Environment of use
Water quality
Water supply
(Suitable for drinking water standards)
Water pressure
3kgf/㎠ or more
Water temperature
4~35℃
Cafeterias
Daycare centers, Kindergartens, Fast food franchise, Cafes, etc.
Medical facility
Used in Medical institutions, Sanitariums, Public health centers, Pet hospitals, etc
Companion Animal Industry
Pet hospitals, Pet cafes, Pet hotels, Pet shops, etc.
Multi-Purpose Facilities
Library, Cinema, Sports Center, Public transport, etc.